posted on 24 Mar 2012 09:54 by moomooae
G-Dragon HQ Scans from Choa 10, Kan Fun and Josei Jisin Magazine
Resized to 48% (was 1440 x 930) - Click image to enlarge
Credit:
GKGD@DCGD
120329 G-Dragon and TOP @ Suwannaphumi Airport


Resized to 86% (was 800 x 533) - Click image to enlarge
Resized to 86% (was 800 x 533) - Click image to enlarge
Source:
p12ang@twitter
YAMAHA @ Bangkok Motor Show 2012
Source&Cre : as tagged
Shared via bigbangupdates.com
Credit : BB
U
Big Bang @ Yamaha Concert in Thailand
BIGBANG @ Yamaha Concert in Thailand -
Set List ::
--Set List --
- Hands Up
- Tonight
- Fantastic Baby
- Bad Boy
- Lie

Shared via bigbangudpates.com
Resized to 67% (was 1024 x 682) - Click image to enlarge
Resized to 67% (was 1024 x 1487) - Click image to enlarge
Source: Pingbook
Taken from BBU
Park Jin Young "BIGBANG's 'Bad Boy' is the Best!"
JYP Entertainment's president Park Jinyoung has praised Yang Hyunsuk of YG Entertainment for Big Bang's "Bad Boy"
He showed interest in idol group YG Entertainment's Big Bang's "Bad Boy" while talking in SBS' "Kpop Star."
Yang Hyunsuk told Star News that
"Park Jinyoung asked me who made "Bad Boy" because he thinks its the best song from the past year. I was happy to hear this from such an influential producer."
He went on to say
"I also personally like "Bad Boy" out of all the Big Bang songs, and I think Park Jinyoung likes this song because he has an interest in Hip Hop and R&B."
Park Jinyoung's praise to Big Bang was very heart-warming, considering Big Bang is an idol group from a rival company.
"Bad Boy" is from Big Ban's 5th mini album that was released in February. It is a hip hop song with a nice melody and a rhythmical
beat. Big Bang's G-Dragon produced this song, Choice37 helped with writing the melody, and TOP helped with the rap.
Big Bang is approaching their one month mark since the release of their new album, and is maintaining the top positions in music charts.
Source: Star News
Trans: @kristinekwak via KRISTINEKWAK of bigbangbupdates
Credits: dkpopnews
120326 More GD Fantaken Pictures @ Gimpo Airport
Source:
http://gtothed.tistory.com/
Big Bang's Activities and Successful Chart Rankings
5 member group Big Bang has become a hot topic in both Korea and Japan recently. Big Bang is taking the concept of "from Asia to the World" and is releasing their album on the coming 28th. The album is going to have Japanese versions of the songs from the Korean fifth mini album, as well as 2 additional new songs.
Big Bang is very busy considering they are promoting in Korea while starting their Japanese promotions. It is said they will be visiting Thailand as well, amidst their programs and interviews happening in Japan.
Big Bang will be putting on an extravagant performance for the famous R&B Hip Hop Festival in Japan called the "2012 Spring Groove." This event will also feature 2NE1, LMFAO, David Guetta, and more worldwide stars.
After doing Japanese promotions for 2 weeks, Big Bang will return to the Korean stage and feature on SBS' "Go Show."
They are also doing very well on the music charts. Since the new album was released, they have been topping the charts and have been very popular, although it's been almost a month. Big Bang has been staying at the top.
Among the 5 title songs, "Blue" is one song that has been toping the charts, and electronic song "Fantastic Baby" is quickly rising.
Even though many other idol groups have been coming back, Big Bang has been keeping their popularity in the scramble for 1st place. In today's world where albums are popular for 2-3 days through digital charts, it is rare to maintain popularity after the one month mark.
A representative for Big Bang told Star News on the 27th that "Big Bang is planning on meeting many fans as they travel back and forth between Korea and Japan," and "they will focus on their Japanese tour in May."
"Big Bang Alive Tour 2012 in Japan" will start on May 17th and 18th, from the Aichi Gaishi Hall, to the Yokohama Arena, Osaka Castle, Saitama Super Arena, along with the Fukuoka Marine Messe. This tour has gathered 130000 people.
Source: StarMT
Translated by @kristinekwak of bigbangupdates
BIGBANG Alive Album Japan Version
Credit:
ohohkaka@weibo
Ceci Magazine - G-Dragon's Part Translation ::
Resized to 86% (was 802 x 1078) - Click image to enlarge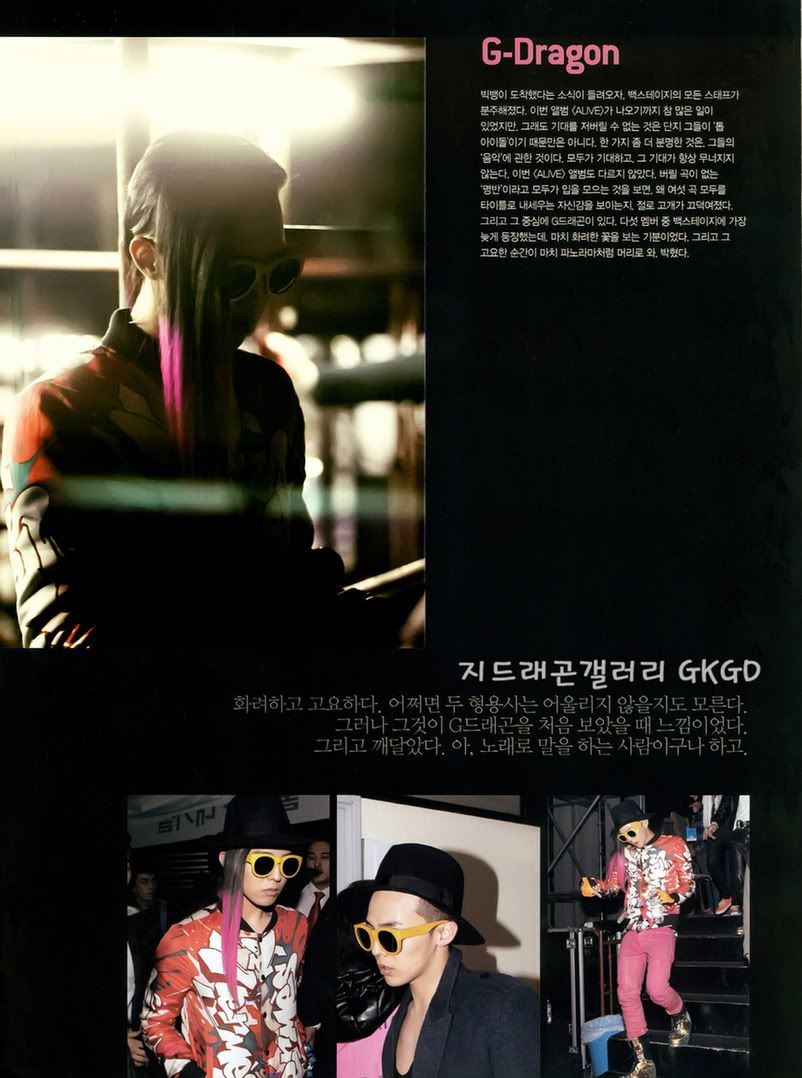 Perhaps, to them. they cannot be called as 'idol' anymore. Whereever they are, they can show their presence with their full energy.
After 1 year, Big Bang has returned to the showbiz with 'Alive' and they have met 'K- Collection' too.

When we heard that Big Bang has arrived, the staff who was working in the backstage started to be very busy preparing for their stage.
Although they have done a lot of promotional activities for their 'ALIVE' album; however, they do not disappoint us not only because they bear the title of 'Top Idol', another obvious reason is related to their 'music'. Everyone is anticipating it and they have not let us down.
The 'Alive album' is another unique production of them. We all agree that it is an amazing album in which every song is fabulous. Seeing from this perspective, we cannot help agreeing more with their confidence of listing all of their songs as their title songs. Among all of these, the focal point is G-Dragon.
Although he was the last one to arrive at the back stage but when I met him, I just felt like meeting a glamourous flower. I was so impressed at that moment since it was just like a dream.
Charming but low profile. Even I am not sure whether these two adjectives are appropriate to describe him.
However, this is my feeling of meeting G-Dragon the first time. Ah, perhaps, he is the type of person which we call 'he speaks in the form of music.'
Source: Baidu GD bar
Image Source:
GKGD via DCGD
Translation: godlovesrice.tumblr.com
Shared va
@Forever_GDragon
BIGBANG ON STRONG HEART:
source:
http://tv.sbs.co.kr/kangheart/
TOP
BIGBANG ON STRONG HEART
http://tv.sbs.co.kr/kangheart/
GD
www.carolcoraline.com //
@sergeantkero // sergeantkero.tumblr.com
BIGBANG - YG On Air ▶ AIN'T NO FUN (재미없어)
YGONAIR Fantastic Baby Performance Official Pictures

Credit: gilbakk75@ameblo
BIGBANG OVERSEAS SCHEDULE (REVISED)
2,9,16,23,30 March Happy Music Opening Theme
15~21 March MTV 'Buzz Clip' Power Playhttp://www.mtvjapan....music/buzzclip/

18 March

19:00~21:00 Space Shower TV Plus 'BIGBANG Special'




Replay: 24 March, 2 April, 21 April

http://www.spaceshowertvplus.com/

24 March

[Performance] 'KPOP Friends Concert


28 March

[Performances] [PM 05:00] Yamaha Thailand Concert Showcase [anniversary]

[Day] New Album ALIVE release (Japan)


31 March

[Performances] Springroove 2012 Osaka


April 1

24:20 ~ 24:45 "Music Lover" Special Live.

http://www.ntv.co.jp/mlovers/



[Performances]4 April 24:35 - Fuji TV "Music Ranking Special"

http://www.fujitv.co...gake/index.html


14 April

(Sat)




[Concert] Coca-Cola Music Festival (Vietnam Hutto Stadium)




15 May

9:00 p.m. to 11:00 p.m. "Love & Hope Tour 2011" WOWOW TV Special

http://www.wowow.co.jp/music/bigbang
Official Pictures @ YOU&I

http://img339.images...wjm51qzjb8k.jpg
http://img41.imagesh...usag1qzjb8k.jpg
http://img205.images...uijl1qzjb8k.jpg
http://img94.imagesh...ofxa1qzjb8k.jpg
http://img820.images...wjm51qzjb8k.jpg
Credit:
ygfamilyy@tumblr
BIGBANG_0318_SBS Inkigayo_BLUE
120323 BIGBANG @ Gimpo Airport arrival from Japan
Sources: captaing + THE_TOP崔胜铉中文网 + G-ONE权志龙中国个站 + BABY-PANDA@weibo
Sources: @gd_fan, @gd_secret, @utopia_871104
Big Bang has returned - bigger and better
After experiencing hardships, Big Bang has returned - bigger and better.
Big Bang marked its return after a year on February 29 with the release of its new mini album Alive. After becoming one of the leaders of the Hallyu last year, a series of setbacks from Daesung's car accident to G-Dragon's marijuana scandal put a halt to the group's activities and brought the group's existence into danger.
But returning as a much more mature group, Big Bang made all its tracks off of the new mini album title tracks and found success on the music charts and even ended up on America's Grammy Awards homepage and on Billboard to prove it was Korea's representative idol group.
In addition, actress Han Ga In even took time out of her busy shooting schedule for MBC's The Sun and the Moon to attend Big Bang's concert recently, while Shinhwa, who is preparing for its impending comeback, selected Big Bang as the most eye-catching among idol groups.
Enews decided to examine the merits of Big Bang who has not only captivated regular people but friends, seniors and juniors in the entertainment world.
I Am
G-Dragon, T.O.P, Taeyang, Daesung and Seungri form the five member Big Bang. The five were different from the start. Even before the group's debut, they introduced themselves to the public through the tvN show Big Bang The Beginning.
Big Bang The Beginning was a document program that aired in 2006 to explosive popularity showcasing the group's formation from its training days. Also drawing attention was member Jang Hyun Seung who was eliminated from the group, right before its debut, who then went on to join the group B2ST at Cube Entertainment.
From its 2006 debut onwards, the group sought to set itself apart from others by self-producing and met earned huge success through Lie off its first mini album and Last Goodbye from its second album. Afterwards, Haru Haru, Red Sunset and Tonight all became big hits as well.
Leader G-Dragon especially made a name for himself as not just an idol singer but a singer-songwriter penning tracks like This Love, Lie, Last Goodbye and more. In addition, each member's unique color allowed them to find success through dramas, movies musicals and variety programs as well as solo and sub-unit groups such as GD&TOP.
Charm
Big Bang's merits draws not only from leader G-Dragon's singer-songwriter status but also each member's unique and developing colors. While many idol groups are strong as a team, it's not as common to see individual members produce the same results on their own, but this is not the case for Big Bang, as all its members have seen tremendous success.
T.O.P. transformed into an actor for the movie Into the Fire and the drama Iris and even received a rookie actor award while Daesung found success through the SBS variety program Family Outing and Night by Night. Seungri also had a stint as host for MBC's Show! MusicCore.
Big Bang wields tremendous influence not just in music but in fashion as well and has emerged as cultural icons. While most other artists relies on their fashion coordinators to create their own style, Big Bang is at the forefront of the fashion trend, creating their own style and merits.
Crisis
Though Big Bang had its series of ups and downs, the 2010 car accident by Daesung and G-Dragon's marijuana incident brought the group into its most dangerous period.
After much time had passed, some of the members appeared on SBS' Healing Camp to discuss these incidents and shared, "If it was not for this recent crisis, Big Bang may have disbanded," as the members revealed the group had lost focus after five years and it was through this crisis the group turned itself around, learned more about their own selves and became a closer unit.
In the end the big crisis turned out to be the strength and energy for Big Bang to leap to new heights.
After releasing its new mini album Alive on February 29 the group held a series of successful concerts in Seoul in front of some 40,000 fans. It will release an album in Japan on March 28 and tour five cities in Japan in May through June and afterwards move on to perform 25 concerts in 16 different countries for its 2012 Big Show- Alive. For Big Bang who even made it onto the homepage of the Grammys and Billboard, people are looking to see what new heights Big Bang will reach.
Source: Enewsworld.com
By Park HyunMin (@happygato)
Translation credit: Stewart Ho
Shared by RONAMAYLOVE @ bigbangupdates