posted on 23 Feb 2010 15:31 by moomooae
photos of GD promoting Market O goods for Shine A Light

C: NAVER / 氤氲语茶@BBCN / mabinee @ CHOITOP THAILAND
Big Bang and Leessang are Cyworld's BGM Star
SK Communications will give to awards, "2009 Best 10", to artists who sold the most songs in Cyworld's Myspaces. The nominees are Big Bang, G-Dragon, Lee Ssang, Brown Eyed Girls, Davichi, Girls Generation, MC Mong, 2NE1, 2PM, and 8Eight as announced on the 23rd of February.

Jang Gi Ha and the Faces received the Digital Music Award. Cho Young Soo received the Composer Award for composing Lee Seung Chul's 'There's no one like that.' Jung In, who was featured in the song, 'The Girl Who Can't Let Go, and the Man that Can't Leave,' received a Collaboration Award. SS501, who sang the OST for the hit drama, 'Boys over Flowers,' received the 'OST Award.'

The Digital Music Awards show will be on March 1st, at 5PM, in the Seoul Olympic Park as 'Cyworld Digital Music Awards 2009.'

The awards show's MC will be Horan; 'the best artist' and 'the best song' will be announced in the awards ceremony.
Korean article: newsis
Translated: hyun ji @ ibigbang
Credit: Hyun Ji of ibigbang.wordpress.com
Big Bang's Electric Love Tour costed a total of 300,000,000 Yen!
Korean Popular Group "Bigbang" had a perfect Live tour at Tokyo & Budokan.

Their First Live tour at japan "Electric Love tour" was a successful tour of 2010. Their Japan tour is about 2 Billion total production cost, using Japan's first Color Laser "Senon".

Their japanese single albums had a very big impact in Japan. The hit song of Big Bang "Gara Gara Go" was the Opening song of the Electric Love tour and the 5 members ran all over the colorful stage.

Secret guest singer "Aoyama Thelma" (22) appeared in the middle of the show and one of the Big Bang members "SOL"(21) had a perfect duet with the song "Fall in Love". Many fans enjoyed the amazing collaboration.

After the concert, Big Bang had a interview. G-Dragon(21) says : "The Level of our activities in Japan is now rising and because of that I feel confident now". T.O.P(22) says : "The cheering voice of fans was my energy" with thankfulness. V.I(19) says : "I'll go next to the (tokyo) Dome" and reveals his ambitions, and looking forward to it.

Japanese Source
:
JoseiJishin
Translated by
: Bang @
iBigBang
Big Bang wins the "Rookie Award" at the Gold Disk Awards
Big Bang wins the Rookie Award at the "Gold Disk Awards" in Japan.
On February 24th according to the Recording Industry Association Big Bang was nominated under the "Best 5 New Artists" category. Gold Disk awards were based on the sales of albums from last year.
Big Bang who debuted last year in Japan with their single "My Heaven", after that "GARA GARA GO!" and lastly "Koe Wo Kikasete", rose to fame when all of their singles entered the top 5 spots on the Oricon album chart. After having such an impact in Japan and good reaction from the public, they have won the rookie award.
Korean article: spn
Translated: alee @ ibigbang
Big Bang me2day Updates!
I finish with this last picture! Today I've showed the best pictures and it's raised the bar.ㅋㅋㅋㅋㅋㅋ Everyone have a good lunch~~
Seungri, why do you look so tired….ㅠㅠ

'Daesung, do you have any money?' 'Sorry, hyung.'

TOP, jump~~~ㅋㅋㅋ

'Do you have some time?' appears to be what TOP is asking. Maknae, Seungri's eyes…loose? [He's tired]ㅋㅋㅋㅋ

Are you careful to sweep it over your head? TOP! ㅋㅋㅋㅋ He's killed many people with his eyes. Ji Yong is biting his nails but he shouldn't, because it's bad for him! The maknae, Seungri strikes a burning pose!ㅋㅋㅋㅋㅋㅋ

The glasses extend his forehead to my taste! TOP. 'A shout to mark the time is good' Seungri! 'Daesung, oh, play time' Taeyang.'Where? Who am I?' Daesung………….Wait, Ji Yong and Daesung swing their abdomens?ㅋㅋㅋㅋㅋㅋ
What happens when you return to this angle? You have to listen and peel away the surprise! ㅋㅋㅋ Again today we give you another tasty gift at lunchtime! Everyone is doing the 'L'ollipop2!!!!!!!!!!!!!!!!!!
Thanks to
aa-chan
Credit: ibigbang/aleee
GD and Daesung @ KyungHee University Opening Ceremony
Credits: baidu bigbang | Miseremei @ bigbanghaven
G-Dragon leaving Japan Airport
credit : GD-880818.com
thanks to baidu bigbang
taken from bigbanghaven.blogspot.com
Big Bang Electric Love Tour 2010 Japan Budokan final performances
LOL at GD's hair XD

credit : 女性自身 & Bigbangfamily /to baidu bigbang / re-up by Miseremei
BIGBANG on My YouTube
credit:YGEntertainment
BIG BANG FOR LOLLIPOP 2 BTS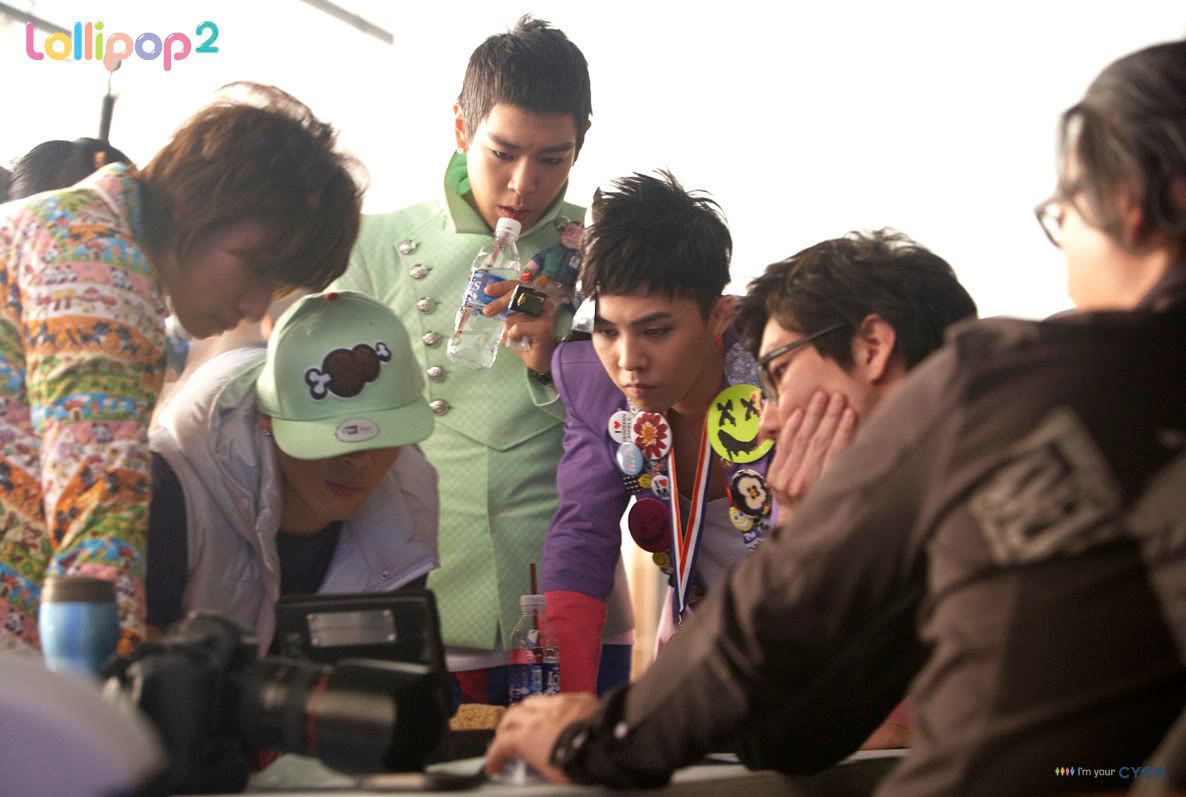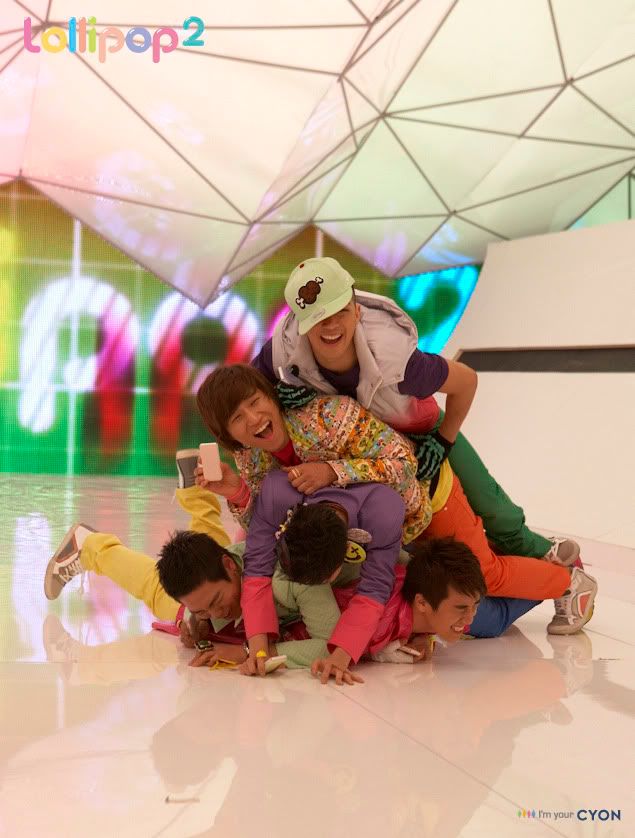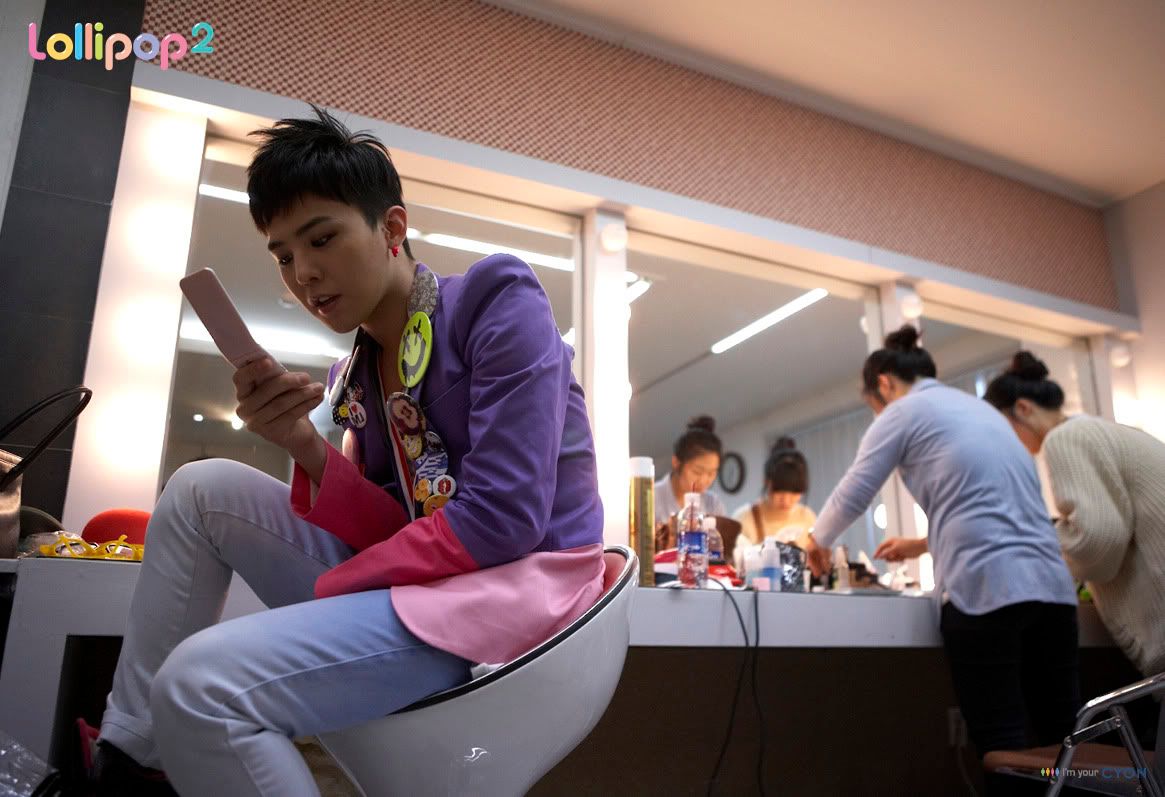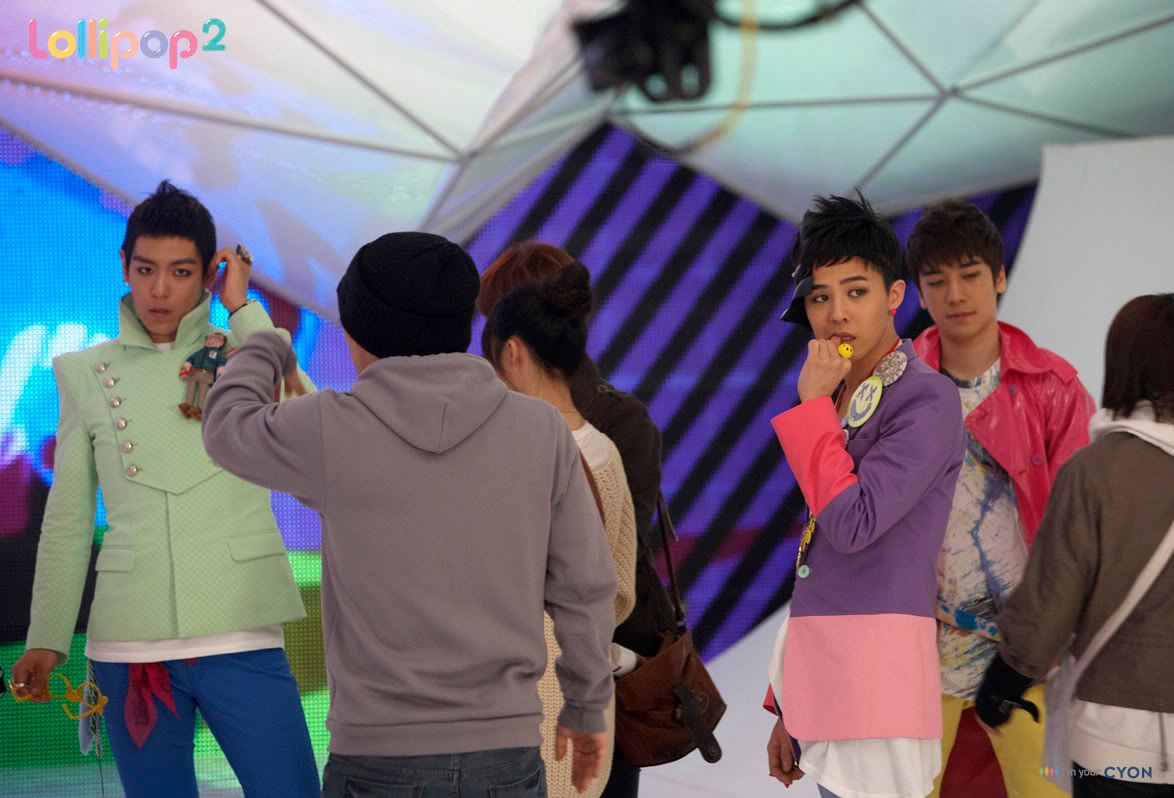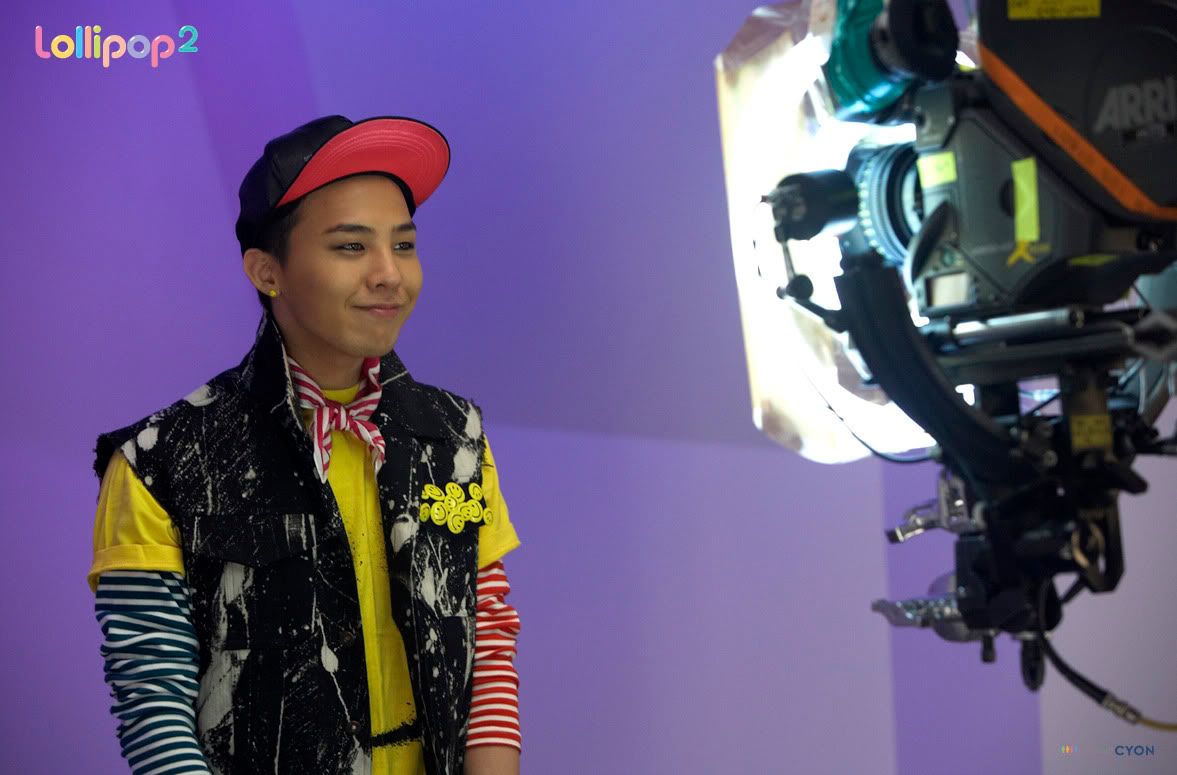 Source: http://www.cyon.co.kr
Credit: peachiimii @ BBVIP.net
100222 Lotte DFS 30th Anniversary_Red Carpet_Koari
100222 Lotte DFS 30th Anniversary_Koari

credit:happyyouyou1
Big Bang at the Lotte Duty Free 30th Anniversary
4 of the 5 members of Big Bang (G-Dragon, Taeyang, Seungri, and Daesung, minus T.O.P) went to the celebration of the Lotte Duty Free's 30th anniversary held on February 22nd at Jamsil Lotte World, Star Avenue.

Aside from them, celebrities such as Song Seung Hun (who is also an endorser for the company), Ji Sung, Choi Ji Woo, Park Yong Ha, and Rain were among those who came.

The event was not only aimed to celebrate the store's anniversary but also to hold a fund raising drive that will be donated to MBC's Sunday, Sunday Night corner, Danbi, which is known for doing good deeds for the less fortunate.
Source
:
Original article
Edited by
: SunSkyIvee @ lastvip.ning.com
Credit
:
Big Bang Updates
Baeri <333
Credit:
디지뱅★ @BBVIPZ
Korean article: bbvipz
Translated: alee @ ibigbang
GD @ Incheon Airport (coming back from Japan)
credit: GD&H
and a gif of him, i had to laugh at the way he walks. some people over at bbvip.net were talking about how TOP once said in an interview that whenever Ji sees a pretty girl, he tries to walk all cool and stuff. haha
ncly
/soompi
credit: as tagged;
http://blog.naver.com/y_line_
and stardaisy212 @ twitter
G-Dragon and Taeyang on ELLE Korea
'Fast Beats' Rabbit G-Dragon VS 'Slow Flow' Turtle Taeyang
Friends from the same group and trained together since elementary school, G-Dragon and Taeyang have a lot in common. The two share a lot of things but like a coin, they also have opposite characteristics.

If G-Dragon wants something fast, Taeyang likes to flow. You can tell G-Dragon is born to be an entertainer with his moves. He knows how to capture the attention of those who watch him in front of the camera. He is also a style icon who changes the style of his hats, shoes and bags regularly. Taeyang, on the other hand, is the opposite. As an entertainer, he has a smiling face and an innocent expression. His trademark is a hat on top of his head worn in a certain angle.

Bottom line is these two are so different. In other words, because of their differences, you can't really call the two as 'rivals'. But in spite of this, there are still people who look at them that way (as rivals).

In the end, I wonder if they will play the game like the story of the turtle and the rabbit. (We don't really know the plans of their company.) Both at 23 years old, giving them labels like "idol/musician/entertainer" is tricky. For now, let's just wait for their showcase. Perhaps we'll see the real competition when they are outside YG. In 2020, I wonder which path G-Dragon and Taeyang's music will take.
Original Article via dcbb
Credit:
bigbang updates
W-inds @ Electric Love Tour with G-Dragon
Big Bang's first tour since their major debut titled Big Bang Electric Love Tour started on February 10th at Yokohama Arena. It is their first live concert (in Japan), which caused a great amount of excitement!

The fans were surprised when all of a sudden, the three members of W-inds joined the band on stage. The packed hall of Yokohama Arena got a full performance of W-inds and G-Dragon.

After their performance, W-inds commented "It was really a lot of fun! It seemed like the we could really do this as one unit through the dance music."

Moreover, W-inds' new album will be released on March 10th. It will include their collaboration with G-Dragon, as well as a production with R&B star Ne-Yo and R&B producer Imai Ryosuke, a song of Bach Logic and a song produced by YG Entertainment, all adding up to a fully packed Dance Music Album!

1. Intercode
2. New World (Album edition)
3. Can't Get Back
4. Re:vision
5. Nothing Is Impossible
6. Rain Is Fallin' (with G-Dragon)
7. Some More (Collab with YG Entertainment)
8. Don't remind Me
9. In The Red
10. Truth (Collab with Ne-Yo)
11. Hybrid Dream
12. Cos Of You
13. Prayer
14. Spiral
15. Everyday
Source
:
Music Japan
Credit
:
Big Bang Updates
lollipop
Source:
lollipop 2 me2day
Credit:
큰 엄마 @ bbvipz
Cr:teambigbang
C: 길밖 @ BBVIPZ
credit:DCGD