posted on 30 Oct 2009 17:20 by moomooae
The most stylish star
The most stylish star is member of Big Bang, G-Dragon, said model Jang Yoon Ju.
Famous model Jang Yoon Ju is one of the top Seoul models.
She has won
many awards for modelling
since 1998. Done Bazaar, VOGUE, ELLE, Cosmopolitan, Marie Claire, Madame Figaro, VOGUE Girl, ELLE Girl, etc.
On October 31st at 11:00am Jang Yoon Ju stood on the stage for the 'Endless Youth Engine' at the gymnasium of Korea University in Anam-dong,
Jang Yoon Ju chose G-Dragon as the most stylish star, "He is only about his music and style, he brings out his story in his music and style and makes a very good point. Apart from the plagiarism accusations, he combines his fashion and expressions really well to the point that he is very stylish."
credit:alee@ibigbangwordpress ...... :http://www.soompi.com

091031 GD @ the airport leaving for Japan
Credit:
GD-880818
:
Smile@bbvip.net
Big Bang being featured in TIME Magazine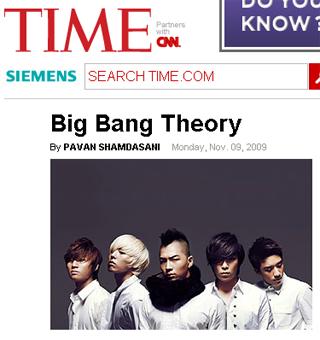 TIME (The International Magazine of Events), the American newsmagazine ran an article about a blast of K-pop and Big Bang is being featured with the title "Big Bang Theory".
Here are the excerpts from the magazine :
For the past 20 years or more, Japan has successfully sold its superinfectious brand of pop music in other Asian markets. Now the South Koreans want to follow suit. The vocalist Rain - among the TIME 100 in 2006 - remains the international face of K-pop, but a host of other artists are eager to follow in his wake. Their appeal to Western audiences remains niche - Rain himself has struggled to make an impression in the U.S., despite a ton of MTV appearances and onstage backup from the likes of Omarion and Diddy. That leaves Japan as the prime foreign market for the talented, preening young acts that South Korea produces by the score.

The most promising of these is Big Bang, a domestically successful five-man hip-hop group formed through a Making the Band – style reality show in 2006. A Japanese-language mini-album (With U) enjoyed some success in 2008. Big Bang now hope their debut full-length Japanese-language release - having entered Japan's charts at No. 3 - will deliver the coup de grace. The good looks of the creators certainly won't harm the disc's chances.

A self-titled affair, Bigbang serves up fresh tracks and reworkings of the group's old Korean singles. The tasty production, dance-pop beats, fluid raps and great vocal harmonies comprise an expertly fashioned example of globalized R&B. Tracks like "My Heaven" (a collaboration with top Japanese DJ Daishi Dance) and "Love Club" have plenty of dance-floor appeal. As for swoon factor, well, their track "Let Me Hear Your Voice" has been selected as the theme for the new Tokyo Broadcasting System romantic comedy Ohitorisama. If your work is popping up on Friday-night prime-time drama, total domination can't be that far behind.
original article : TIME ..thanks to VIP4ever for the tip.
: http://ibigbang.wordpress.com/
Big Bang - Let Me Hear Your Voice Eng Sub

credit:TheYGmusic
the track "Let Me Hear Your Voice" has been selected as the theme for the new Tokyo Broadcasting System romantic comedy Ohitorisama
G-Dragon Concert tickets sold out in 10 minutes!
I'm sure you guys were trying to find some way to get to G-Dragon's "Shine A Light" concert after watching the commercial. But unfortunately, you probably can't.

As soon as the first round of tickets went on sale, they were gone! In 10 minutes, fans had already reserved 12,000 seats at the Seoul Olympic Stadium. Approximately 10,000 fans fought for tickets and 1 out of 10 were lucky enough to get them for this highly anticipated concert.

But you still have a chance as the second round of ticket sales will open on the 30th. Which will most likely be just as challenging as the first round.

YG Entertainment stated:


"We tried to give more fans a chance to come this time. We had more seats available than the Big Bang concerts but it still sold out immediately."


This will be an epic concert as G-Dragon will perform songs from his album that were never performed before and I'm sure his fellow YG family members will come and support him on stage.

CREDITS: allkpop.
: http://bigbangvip.net